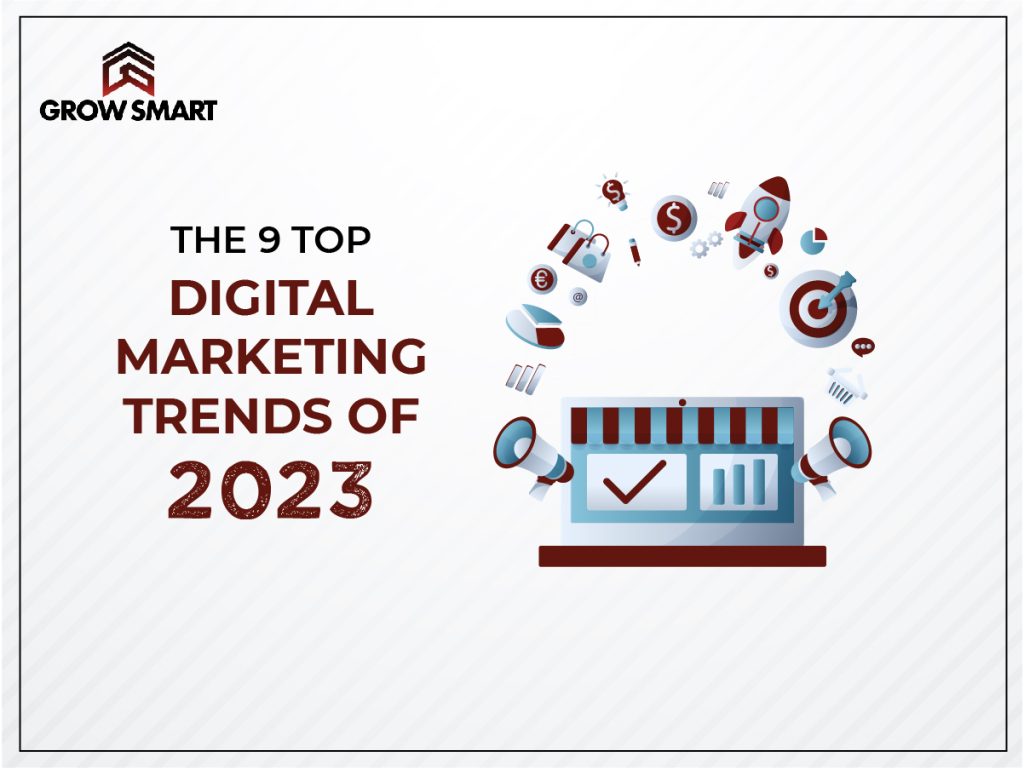 Digital marketing is constantly evolving, and there are several trends that businesses should be aware of to stay competitive. Here are some of the top digital marketing trends to watch for in 2023:
Personalization
With more and more businesses moving online, standing out in a crowded marketplace has become increasingly difficult. Personalization can differentiate your brand and make your marketing more effective. Personalized email campaigns, targeted social media ads, and personalized website experiences can all help to increase engagement and conversions.
Influencer Marketing
Influencer marketing has been on the rise for several years now and shows no signs of slowing down. However, it's important to choose influencers who align with your brand values and whose audience is a good fit for your products or services. Partnering with influencers in your industry can help increase brand awareness and credibility and drive sales.
Artificial Intelligence
Artificial intelligence (AI) is becoming increasingly sophisticated, and it's increasingly used in digital marketing. AI can help with everything from chatbots and personalized recommendations to predictive analytics and automated ad buying. As technology continues to improve, we can expect to see even more applications of AI in digital marketing.
Video Marketing
Video marketing has been growing in popularity for a few years now, and it's likely to continue to be a key trend in 2023. It is a great way to grab attention, tell stories, and build emotional connections with your audience. Live streaming, virtual reality, and interactive videos are all expected to be big trends in 2023.
Voice Search Optimization
With the increasing popularity of voice assistants like Amazon Alexa and Google Home, voice search is becoming increasingly important. Optimizing your website and content for voice search can help to improve your visibility in search results and make it easier for customers to find you.
Interactive Content
Interactive content such as polls, quizzes, and chatbots can help to increase engagement and boost conversions. It's a way to make content more dynamic and interactive, more likely to hold the audience's attention.
Social Media Stories
With the rise of social media stories, it has become more important than ever to have a strong presence on platforms like Instagram, Snapchat, and Facebook. Brands create stories to promote products and services, interact with customers, and build brand awareness.
Micro-moments
Micro-moments are the small, everyday decisions people make when looking for something specific. Businesses can capitalize on these moments by being there when and where their customers are looking for them. This means being present across multiple channels, from search engines to social media, and making sure your website is mobile-friendly.
Shoppable Posts
Instagram and Pinterest have already introduced shoppable posts, and other platforms will likely follow suit. Shoppable posts allow businesses to tag products, making it easy for customers to purchase directly from the post.
Conclusion,
Digital marketing is constantly evolving, and businesses must stay up-to-date with the latest trends to remain competitive. Some key trends discussed in this blog include the increased use of artificial intelligence, the rise of voice search, the growing importance of visual content, and the increased focus on personalization.
By keeping an eye on these trends and incorporating them into your digital marketing strategy, you'll be able to reach your target audience more effectively and drive better results for your business. Remember, digital marketing is constantly changing, so stay informed and adapt your strategy accordingly.
Stay ahead and take advantage of the latest digital marketing trends. Contact GrowSmart today to learn more about how we can help you improve your online presence and drive more business through effective digital marketing strategies.