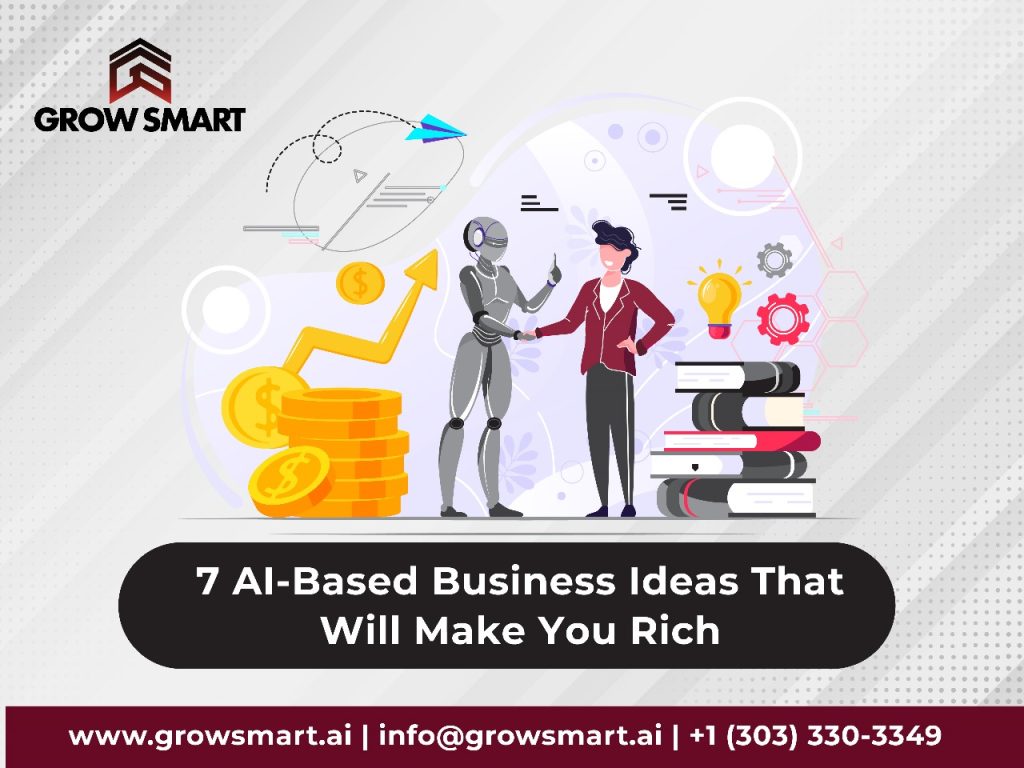 In today's rapidly evolving technological landscape, harnessing the power of Artificial Intelligence (AI) is the key to unlocking unprecedented business potential. This article delves into seven innovative AI-based business ideas that promise profitability and a chance to revolutionize industries. Let's dive in and explore the future of entrepreneurship.
AI-Powered Healthcare Solutions
The convergence of AI and healthcare holds immense promise, with applications ranging from personalized treatment plans to predictive diagnostics. Entrepreneurs in this field can tap into a market poised for exponential growth.
Transforming Patient Care
AI-driven solutions enhance patient care by analyzing vast datasets to provide personalized treatment recommendations. This technology empowers healthcare professionals to make more informed decisions, ultimately leading to improved patient outcomes.
Predictive Analytics for Early Intervention
By leveraging predictive analytics, AI can identify potential health issues before they manifest, enabling early intervention. This not only saves lives but also reduces healthcare costs in the long run.
Chatbots and Virtual Assistants
The demand for automated customer service solutions is skyrocketing, making chatbots and virtual assistants a lucrative business opportunity. These AI-driven tools streamline interactions, saving both time and resources.
Enhancing Customer Experience
Chatbots provide instantaneous responses to customer inquiries, ensuring a seamless and satisfying experience. They can handle a wide range of tasks, from product recommendations to troubleshooting, leaving customers impressed and loyal.
Efficiency and Cost Savings
Integrating virtual assistants into business operations automates repetitive tasks, allowing employees to focus on higher-value activities. This not only boosts productivity but also leads to significant cost savings.
AI-Enhanced E-commerce
In the competitive world of online retail, AI offers a distinct advantage. Entrepreneurs can leverage this technology to optimize user experiences, increase sales, and stay ahead of the curve.
Personalized Product Recommendations
AI algorithms analyze user behavior and preferences to suggest tailored product recommendations. This level of customization enhances user satisfaction and boosts conversion rates.
Dynamic Pricing Strategies
By employing AI-driven dynamic pricing, e-commerce businesses can optimize their pricing strategies in real-time. This ensures competitiveness in a dynamic market while maximizing profits.
Autonomous Vehicles and Transportation
The transportation industry is on the cusp of a revolution thanks to AI-powered autonomous vehicles. Entrepreneurs in this space are poised to reshape how goods and people are moved.
Redefining Mobility
Autonomous vehicles promise safer, more efficient transportation solutions. Entrepreneurs can enter this market by developing technologies for self-driving cars, trucks, and even drones.
Logistics Optimization
AI enables real-time tracking, route optimization, and predictive maintenance for fleets of autonomous vehicles. This not only reduces operational costs but also enhances overall efficiency.
Financial Predictive Analytics
Predicting market trends and making informed investment decisions is crucial in finance. AI-driven predictive analytics provides a competitive edge to entrepreneurs in this sector.
Data-Driven Investment Strategies
AI algorithms analyze vast datasets to identify investment opportunities and potential risks. This empowers entrepreneurs to make data-driven decisions that lead to higher returns.
Risk Management and Fraud Detection
AI excels in detecting patterns indicative of fraudulent activities. Entrepreneurs can develop solutions safeguarding financial transactions and protecting businesses and consumers.
AI-Powered Content Creation
Content is king in the digital age, and AI is revolutionizing production. Entrepreneurs can capitalize on this trend by developing AI-driven tools that assist in content generation.
Streamlined Content Production
AI-powered tools can generate high-quality written and visual content in a fraction of the time it would take a human. This efficiency is a game-changer for businesses seeking a consistent online presence.
Enhanced Creativity and Personalization
With AI, content can be tailored to specific audiences, ensuring relevance and engagement. This level of customization sets businesses apart in a crowded online landscape.
AI in Agriculture
The agricultural industry stands to benefit significantly from AI-driven innovations. Entrepreneurs can develop solutions that optimize farming practices, leading to increased yields and sustainability.
Precision Agriculture for Higher Yields
AI-powered systems analyze data from various sources, such as drones and sensors, to provide farmers with valuable insights. This enables precise resource allocation, ultimately leading to higher crop yields.
Sustainable Practices and Resource Efficiency
AI can help farmers implement sustainable practices by optimizing irrigation, pest control, and fertilizer use. This not only benefits the environment but also improves the bottom line.
Conclusion
The future of business belongs to those who embrace the transformative potential of AI. These seven AI-based business ideas offer the promise of wealth and the opportunity to make a lasting impact on industries and society at large. Seize the moment and embark on your journey towards a prosperous and innovative future.