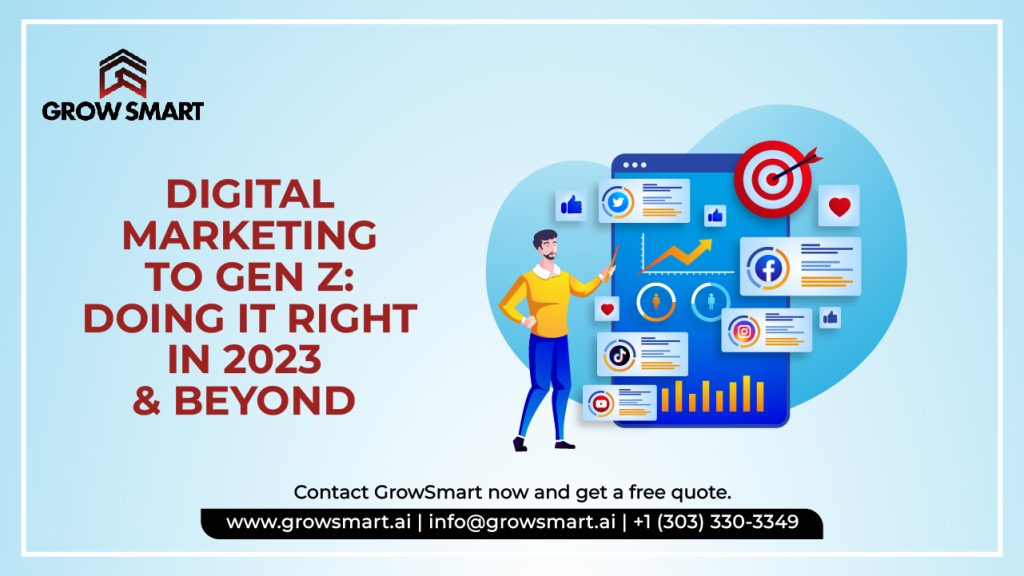 Marketing cannot be a one-size-fits-all approach. Every demographic, such as socio-economic group, gender, age, and generation, has unique characteristics that require a tailored strategy. What works for one group may not be effective for another. This is especially true for Gen Z, whose distinct language and communication style sets them apart from other generations.
In addition to fundamental human needs, the dynamics of this particular generation differ slightly. As a group of digital natives who are proficient in technology, they expect seamless experiences. They have distinct behaviors that set them apart, making marketing to them more complex. Therefore, if marketers are targeting the post-1997 generation, they must be prepared to comprehend their preferences and tailor their campaigns accordingly to achieve optimal results.
Who is Gen Z or Generation Z?
Gen Z, the post-millennial generation, refers to individuals born between the mid-to-late 1990s and the early 2010s. This generation is known for being digital natives, having grown up with technology as an integral part of their lives, and being the most diverse and socially conscious generation to date.
This is a generation that values loyalty to a brand but with specific conditions. They demand excellent customer service, top-notch product quality, and ethical business practices. When it comes to shopping, they prefer an omnichannel approach, whether it's through social media, apps, websites, offline stores, or any other touchpoints. Moreover, they are open to exploring the Metaverse and instant messenger apps to connect with brands and gain unique experiences.
What is unique about marketing to Generation Z?
Marketing to Gen Z requires a deep understanding of their preferences and behaviors. Stock messaging and generic approaches won't cut it – personalization is key. Gen Z wants a unique experience that aligns with its identity and values and is willing to stay loyal to brands that meet its expectations. To connect with Gen Z, brands must engage in conversations, add value, and show they truly understand their needs. A tailored, personalized approach is essential for success in marketing to this digitally savvy and discerning generation.
How is marketing to Gen Z different than other generations?
Gen Z requires personalized and tailor-made communication.
Generic messaging won't work with Gen Z.
Gen Z wants an experience that feels unique and syncs with their identity.
They expect exemplary customer service, flawless product quality, and high ethical standards.
Gen Z shops omnichannel and is willing to explore Metaverse and instant messenger apps for better brand connections.
Marketers need to understand their desires and shopping behavior through in-depth surveys.
To engage with Gen Z, brands need to be part of their conversations, engage in their discourse, show their value, and evaluate their position.
How are marketers reaching Gen Z?
Marketers are reaching Gen Z through various channels and tactics, including:
Social media platforms like Instagram, TikTok, Snapchat, and YouTube
Influencer marketing to leverage the power of social media influencers
User-generated content campaigns to encourage engagement and build brand loyalty
Personalized messaging and offers tailored to their preferences and interests
Omnipresence and an omnichannel approach to meet them where they are shopping
Transparency and social responsibility in their business practices
Innovative technologies like augmented reality, virtual reality, and the Metaverse
Messaging apps and chatbots to enhance customer experience and offer instant support
Purpose-driven marketing that aligns with their values and aspirations
Agile and adaptive marketing strategies that can keep up with the rapidly evolving preferences and behavior of Gen Z.
What digital marketing approaches work best for Gen Z?
Marketing to Gen Z requires a unique approach that leverages digital platforms and keeps up with the latest trends. Here are some of the digital marketing approaches that work best for Gen Z:
Authentic Influencer Marketing: Gen Z tends to rely more on their peers and trusted influencers' opinions than traditional advertising. However, they are savvy enough to spot a brand trying to fake it. Influencer marketing can effectively reach Gen Z, but it must be authentic, transparent, and aligned with its values.
Memes and Humor: Memes and humor are integral to Gen Z's online culture. Brands that can incorporate memes and humor into their marketing campaigns can get their attention and even go viral. However, ensuring that the memes are appropriate and align with the brand's image is essential.
Short-Form Videos: Gen Z has a short attention span and prefers bite-sized content to consume quickly. Short-form videos on platforms like TikTok and Instagram can effectively grab their attention and keep them engaged.
Personalization: As mentioned earlier, Gen Z wants personalized content that resonates with their values and interests. Brands that can personalize their marketing campaigns by leveraging data and insights can increase engagement and build loyalty.
Gamification: Gen Z is a generation that grew up playing video games and loves a good challenge. Brands incorporating gamification elements into their marketing campaigns, such as quizzes, challenges, and contests, can increase engagement and generate buzz.
Socially Responsible Marketing: Gen Z is a socially conscious generation that cares about the environment, diversity, and social justice. Brands that can demonstrate their commitment to these issues through their marketing campaigns can build trust and loyalty with Gen Z.
Incorporating digital marketing approaches, including memes, can help brands reach and engage with Gen Z effectively.
Why is Gen Z important to marketers?
Gen Z is important to marketers because they represent a growing portion of the global population and are predicted to become the largest consumer demographic in the coming years. This generation has grown up in a digital age, making them particularly receptive to online marketing efforts.
Gen Z also values authenticity, social responsibility, and personalized experiences, which presents challenges and opportunities for brands looking to connect with them. By understanding this generation's unique characteristics and preferences, marketers can tailor their strategies to effectively reach and engage with Gen Z consumers.
Conclusion
Marketing to Gen Z requires a personalized, tech-savvy, and socially conscious approach. Brands prioritizing customer experience, authenticity, and purposeful messaging are more likely to resonate with this demographic. Marketers can build lasting relationships with Gen Z and tap into their immense buying power by keeping up with the latest trends and adapting to their evolving preferences.