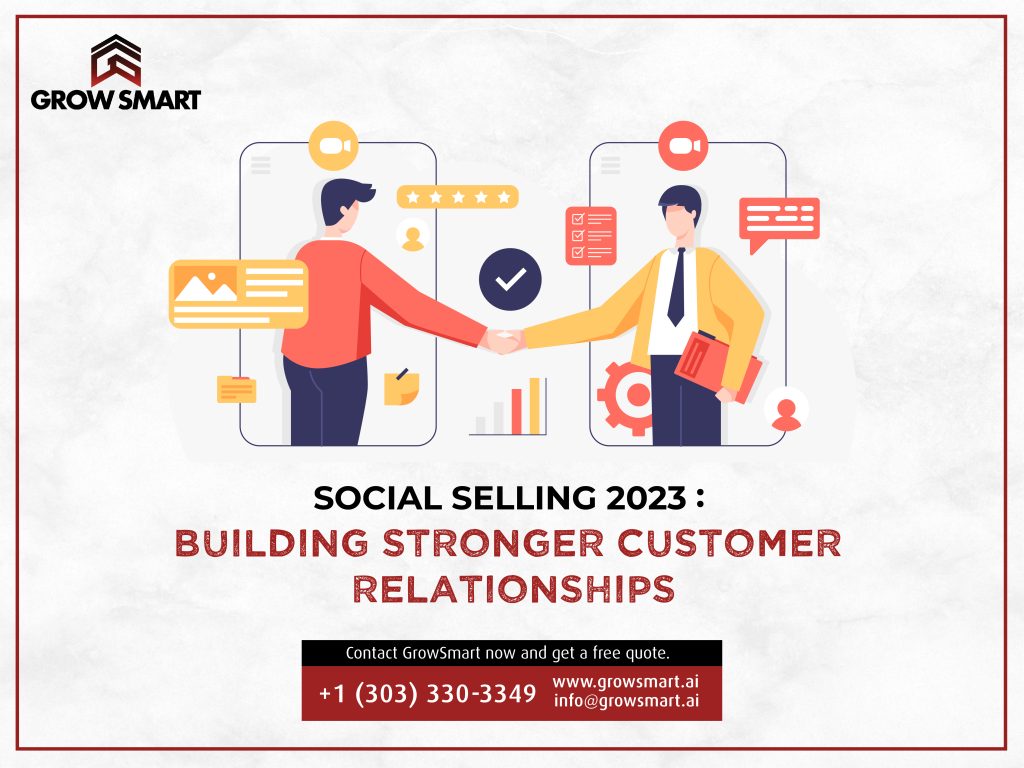 Social selling is not new, but it has become more important than ever in 2023. With the increasing popularity of social media, more and more businesses are using social selling to connect with their customers and drive sales. This blog will discuss how you can build stronger relationships with your customers through social selling in 2023.
Use Social Media to Listen to Your Customers
The first step in building stronger relationships with your customers is to listen to them. Social media platforms provide an excellent opportunity to understand your customers' needs, pain points, and preferences. By monitoring your social media channels, you can gain valuable insights into your customers' conversations and adapt your marketing and sales strategies accordingly.
Focus on Building Personal Connections
Social selling is all about building personal connections with your customers. To build stronger relationships, you must focus on personally engaging with your customers. By tailoring your messaging to each customer's unique needs, you can create a more personalized experience that resonates with them.
Provide Value Through Content
Content is king in social selling. You can establish yourself as a thought leader in your industry by providing valuable content that educates, entertains, or informs your customers. This can help build customer trust and credibility, leading to more sales over time.
Be Responsive and Proactive
Social selling is all about being responsive and proactive. By responding to your customer's inquiries and concerns on time, you can show them that you care about their needs and are willing to go the extra mile to help them. In addition, by being proactive in your social selling efforts, you can anticipate your customer's needs and provide them with solutions before they even ask.
Engage with Influencers and Thought Leaders
One of the best ways to build stronger customer relationships is to engage with influencers and thought leaders in your industry. You can gain valuable exposure and credibility with your customers by sharing their content, commenting on their posts, and participating in their conversations. In addition, by collaborating with influencers and thought leaders, you can tap into their networks and expand your reach.
Leverage Social Media Advertising
Social media advertising is an excellent tool for social selling. By leveraging the power of social media advertising, you can target your ideal customers precisely and promote your products and services directly to them. In addition, social media advertising can help you drive more traffic to your website, generate more leads, and increase your sales.
Use Data to Optimize Your Social Selling Efforts
Data is the key to optimizing your social selling efforts. By tracking your social media metrics, you can gain valuable insights into how your customers engage with your brand and identify areas for improvement. In addition, by analyzing your social media data, you can identify new opportunities to engage with your customers and build stronger relationships with them.
Stay Up-to-Date with Social Media Trends and Best Practices
Finally, to succeed in social selling, you must stay up-to-date with the latest social media trends and best practices. By staying on top of industry news, attending conferences and webinars, and networking with other professionals, you can learn new techniques and strategies to improve your social selling efforts and build stronger customer relationships.
Social selling is an increasingly important aspect of modern marketing, allowing brands to build stronger customer relationships and drive revenue through social media. By following the tips outlined in this guide, you can create a strategy that is effective, engaging, and tailored to your customer's unique needs and preferences. Whether you're just starting or looking to take your strategy to the next level, these tips can help you achieve your goals and succeed in 2023 and beyond.