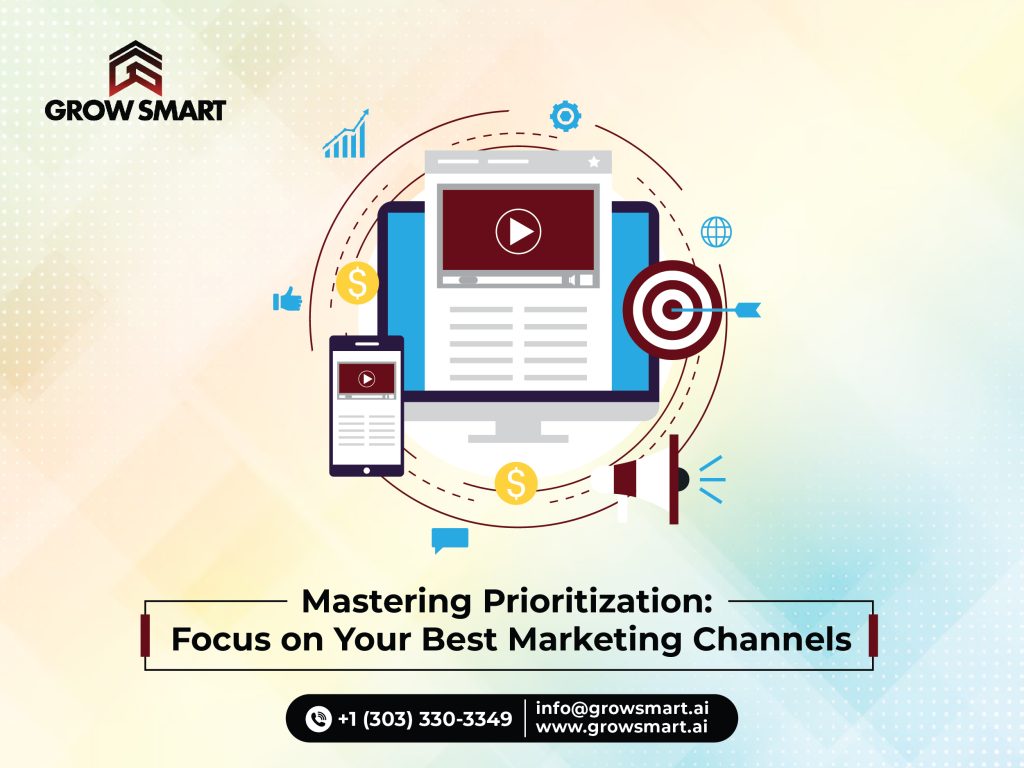 In the ever-evolving digital marketing landscape, the key to success lies not in doing it all but in mastering the art of prioritization. With myriad marketing channels at your disposal, it's crucial to identify and focus on the ones that will yield the best results for your business. So, where should you invest your time, effort, and resources? Let's dive into the world of digital marketing channels and explore the factors that should guide your prioritization strategy.
Digital Marketing Channels
Content Marketing Channels
Compelling content is the bedrock of digital triumph. Whether through blogs, videos, or other formats, tailoring your content to resonate with your audience fosters engagement and loyalty.
Search Engine Optimization Marketing Channels
Unlocking organic search's power is paramount. Understanding SEO intricacies ensures your content not only appears but ranks high on search engine result pages (SERPs), reaching your target audience effectively.
Public Relations and Traditional Advertising
Time-tested strategies like traditional advertising and PR can broaden your audience. Discover how these classics can give your brand a lasting and impactful presence.
Mobile-Friendly Design
In our mobile-centric era, optimizing for mobile users is non-negotiable. Crafting a seamless mobile experience ensures your audience can interact with your brand effortlessly, regardless of their device.
Growth Hacking
Embrace innovative strategies for rapid growth. Thinking outside the box and finding unconventional ways to scale your business can set your brand apart in a crowded digital landscape.
Organic Social Media
Building a genuine connection on social media is invaluable. Tailor your approach to the platforms where your audience is most active to maximize impact.
Paid Search, Social & Display
Balancing paid and organic strategies is crucial for success. Discover the sweet spot that maximizes visibility and return on investment (ROI) for your brand.
Conversion Rate Optimization
Converting traffic into customers requires strategic optimization. Master the art of turning visitors into loyal customers through effective conversion rate optimization.
Email Marketing
Crafting emails that not only land but also engage and convert is an art. Dive into strategies that make your emails stand out in a crowded inbox.
Affiliate Marketing
Collaboration is key to expanding your brand's reach. Learn how to build and manage a successful affiliate marketing program by leveraging influencers and partners.
Business Development & Networking
Building meaningful relationships is at the heart of success. Effectively network and develop mutually beneficial partnerships to propel your brand forward.
Word Of Mouth & Referral
Harness the power of satisfied customers to become brand advocates. Discover strategies to encourage and leverage word-of-mouth marketing for exponential growth.
Prioritization Factors
Complexity / Difficulty of Implementation
Not all channels are created equal. Some demand significant time and effort, while others offer a more straightforward implementation process. Understanding the complexity of each channel is vital for aligning your efforts with your team's capabilities and maximizing efficiency.
Budget / Cost
Your budget is a crucial determinant in channel selection. It's essential to identify channels that align with your financial resources and deliver effective results. Striking a balance between budget constraints and desired outcomes ensures a sustainable and impactful marketing strategy.
Available Resources
Efficiency is key in managing digital marketing channels. Assessing your human and technological resources helps determine which channels can be handled effectively. Opt for channels that align with your team's skills and tools, ensuring optimal utilization of available resources.
Ability to Report on Success Metrics
Clear and measurable reporting is essential for refining and optimizing your strategy. Choose channels that provide robust analytics and reporting tools. Understanding success metrics allows you to gauge the effectiveness of your efforts and make data-driven decisions for continuous improvement.
Where Should You Start On Your Website?
SEO Audit
Begin with a comprehensive SEO audit to identify and address areas for improvement in your website's search engine performance.
User Experience Audit
Ensure your website provides a seamless and enjoyable experience for visitors. A positive user experience can significantly impact conversions.
Content Audit
Review your existing content. Is it relevant, engaging, and aligned with your brand? Update and optimize where necessary.
Analytics Audit
Leverage analytics tools to gain insights into user behavior. Use these insights to refine your digital marketing strategy.
CRO Audit
Conduct a Conversion Rate Optimization audit to enhance the effectiveness of your website in converting visitors into customers.
PPC Audit
Regularly audit and optimize your PPC campaigns for paid channels to ensure they align with your goals and budget.
Conclusion
Summarize your findings and create an action plan based on the prioritization factors and the current state of your digital marketing channels. Mastering prioritization in digital marketing is a continuous journey. Focusing on the right channels and employing a strategic approach can elevate your brand's visibility, engagement, and, ultimately, your bottom line.
At GrowSmart, we specialize in turning digital complexity into simplicity for your brand's success. From content mastery to SEO wizardry, we tailor strategies that prioritize your goals. Ready to stand out in the digital crowd? Let's start your journey today!