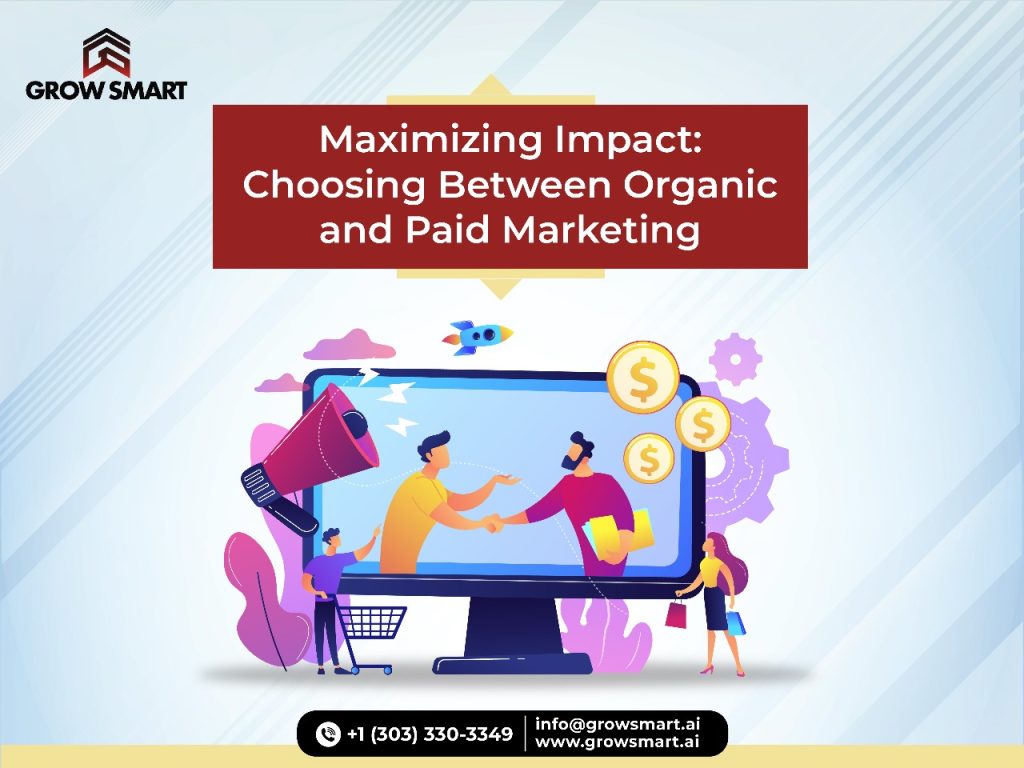 In the fast-paced world of digital marketing, businesses are constantly seeking effective ways to reach their target audience. Among the myriad strategies available, two stand out: organic marketing and paid marketing. Both approaches have their strengths and are crucial in any comprehensive marketing strategy. In this blog post, we'll delve into the nuances of each and help you make informed decisions to maximize your marketing impact.
Organic Marketing: Cultivating Sustainable Growth
Organic marketing centers around the creation of high-quality content and building relationships with your audience over time. It doesn't rely on paid advertising and instead focuses on leveraging your brand's inherent strengths. Here are some key aspects of organic marketing:
Content is King:
Creating valuable, informative, and engaging content is at the heart of organic marketing. This includes blog posts, social media updates, videos, and more.
The goal is to provide value to your audience, establish authority in your industry, and foster trust.
SEO and Visibility:
Search Engine Optimization (SEO) is paramount for organic marketing. Properly optimized content helps your website rank higher on search engine results pages (SERPs).
This means potential customers are more likely to discover your brand when searching for relevant keywords.
Social Media Engagement:
Building a strong presence on social media platforms allows you to interact directly with your audience. Responding to comments, sharing valuable insights, and cultivating a community fosters brand loyalty.
Email Marketing:
Email remains a powerful tool for nurturing leads and maintaining relationships with existing customers. Personalized and relevant content can lead to higher conversion rates.
Paid Marketing: Accelerating Reach and Conversions
Paid marketing involves allocating a budget for advertising on various platforms, such as social media, search engines, and display networks. This approach offers immediate visibility and can be highly targeted. Here's why paid marketing is a valuable asset:
Targeted Audience Reach:
Paid marketing enables you to specify demographics, interests, and behaviors, ensuring your content reaches the right people at the right time.
Quick Results:
Unlike organic marketing, which requires time to gain traction, paid advertising delivers results almost instantly. This is particularly beneficial for time-sensitive campaigns.
Remarketing and Conversion Tracking:
Paid platforms provide robust tools for tracking user behavior. This allows for precise retargeting, ensuring that potential customers are not lost in the conversion process.
A/B Testing and Optimization:
Paid campaigns allow for in-depth testing of ad creatives, headlines, and targeting parameters. This data-driven approach helps refine your messaging for optimal results.
Finding the Right Balance
Ultimately, the most effective marketing strategy often involves a combination of both organic and paid approaches. While organic marketing builds a solid foundation for long-term growth and brand loyalty, paid marketing offers immediate visibility and can drive specific actions.
Here are some tips for finding the right balance:
Define Your Goals:
Clearly outline what you want to achieve with your marketing efforts. Are you aiming for brand awareness, lead generation, or direct sales?
Allocate Budget Wisely:
Determine how much of your marketing budget should go towards organic efforts (content creation, SEO, etc.) and how much should be allocated for paid advertising.
Monitor and Analyze:
Regularly track the performance of your marketing campaigns. Use analytics to identify which channels and strategies are delivering the best results.
Conclusion
In the dynamic world of digital marketing, there is no one-size-fits-all solution. Both organic and paid marketing have their distinct advantages and should be viewed as complementary rather than mutually exclusive. By understanding the strengths of each approach and finding the right balance for your business, you can maximize your marketing impact and propel your brand toward success.
Ready to take your marketing strategy to the next level? Contact GrowSmart today to discuss how we can tailor a custom approach that combines the power of organic and paid marketing for maximum impact. Don't miss out on potential growth opportunities – get in touch now!