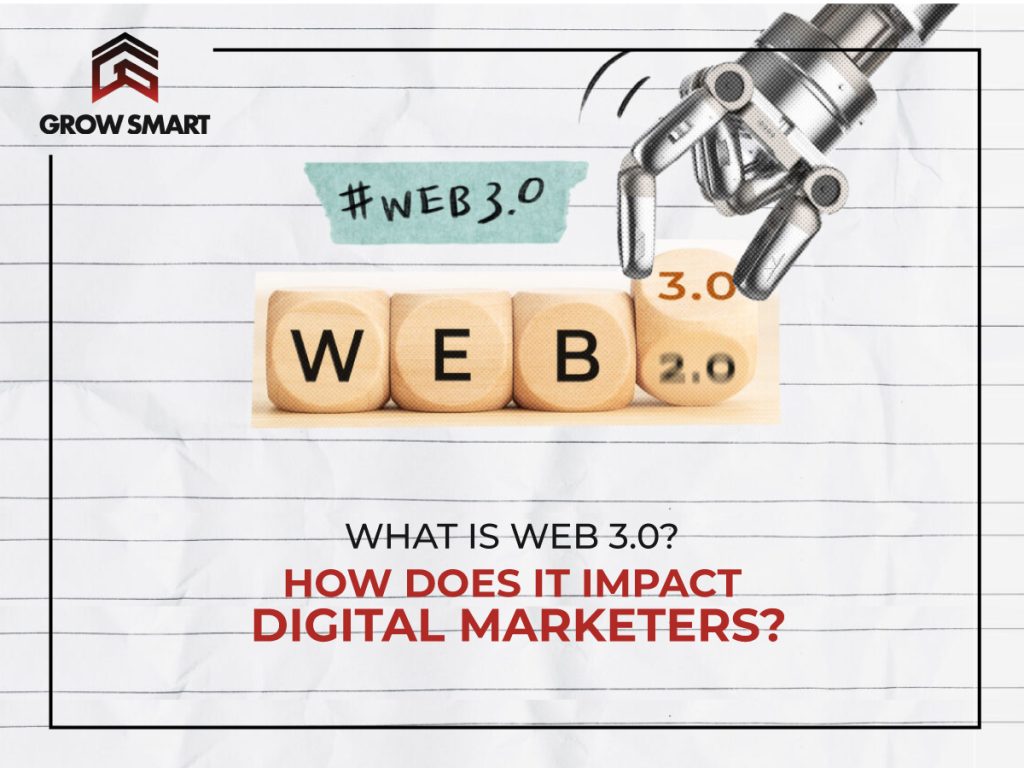 The world is getting more connected to the digital world with advanced technology. Thus, adapting new techniques to advance the virtual world. One such advanced technology is WEB 3.0, the current internet evolution stage.
Web 3.0 helps digital marketers to improve their targeting by providing relevant customer data. According to Gartner, 63% of digital marketing leaders have trouble offering personalized experiences. With Web 3.0, marketers can take leverage to understand consumer demand preferences better.
But what exactly is Web 3.0? Read on to learn more about it and it impacts digital marketers.
What is Web 3.0?
In simple terms, Web 3.0 is the next-gen decentralized Internet, providing a more personalized and interactive experience. It gives users more control over their privacy and personal data.
It includes many new features and enhancements, like a more user-friendly interface and increased security and privacy. Additionally, users can easily find the information they need and share it with others.
The Journey from Web 1.0 to Web 3.0
The Web has come a long way in the past three decades, from sharing text-based information in the early days of 1.0 to sharing and interacting with rich media in today's 3.0 era. The Web has greatly evolved in these three decades to meet user needs.
Web 1.0 (a read-only web): The first web version was created in the early 1990s, and it was all about fetching and reading information. This version was called read-only Web as it lacks the necessary forms, visuals, controls, and interactivity we enjoy on today's Internet.
Web 2.0 (a read-write web): The second phase of the Web began in the late 1900s. This version was about many people creating content for a growing audience and more focused on interactivity and collaboration. With the introduction of blogs, wikis, and social media sites, users could now create content and share it online rather than being just passive content consumers.
Web 3.0 (a read-write-interact-web): The third ongoing phase of the Web focuses on interaction and collaboration between humans and machines. It is becoming increasingly intelligent and adaptable with the advent of new technologies, including the semantic web, natural language processing, and machine learning. Therefore, Web 3.0 is considered to be the future of the Internet.
Three pillars of Web 3.0
The following are the three pillars of Web 3.0
The Semantic Web: The semantic web organizes data on the Internet and aids machines in understanding the same way humans understand data.
Artificial Intelligence: Artificial Intelligence is the ability of a machine to understand that a task is done or created by humans, such as recognizing patterns and making decisions.
Natural Language Processing: It's the ability of machines to understand human language by extracting the correct meaning of the text.
Essential Features of Web 3.0:
Web 3.0 technology aims to make the Web more efficient and effective by leveraging the massive amount of data available.
With Web 3.0, users can access information easily and quickly. Additionally, digital marketers can stay ahead and keep up with the most recent B2B marketing techniques.
The following are the essential features of Web 3.0
Decentralization: The decentralized nature is one of the most important aspects of Web 3.0. This means the Internet cannot be governed or controlled, or regulated by any single body or authority. Instead, it is a distributed network where each internet user is responsible for their data and content.
Blockchain Technology: Blockchain is another important feature of Web 3.0. It is a distributed database that allows for secure and transparent transactions. Blockchain as a technology can potentially revolutionize the way people conduct online transactions by enhancing security.
Improved Privacy and Security: Improved privacy and security are the main features of Web 3.0. Decentralization improves security as there is no central point of attack. Additionally, Web 3.0 makes it easier for each internet user. It allows choosing who can access the user data and what they can do with it.
Impact of Web 3.0 on Digital Marketing
In the past, businesses have relied on advertising, public relations, and direct marketing to create awareness of their brand and its products and services. However, the digital landscape has completely transformed after web 3.0.
For instance, third-party cookies will soon be removed from leading web browsers, making the B2B marketers target specific audiences more challenging. This step is necessary as these cookies gather information about users' online behaviors. The information gathered is used for targeted advertisers and other marketing purposes. Hence, marketers will now have difficulty understanding their audience and delivering relevant content.
Ways in which Web 3.0 will impact digital marketers.
1. Data Collection and Privacy Will Change:
In web 3.0, data will be more decentralized and secure. This will impact how marketers collect and store the data and how they will target and personalize the market. Marketers will need to find new ways to gather information while respecting consumer privacy, as there will be more private information about their data with web 3.0.
2. User experience will improve
With the improved Web 3.0, marketers will need to rethink their strategies for reaching and engaging with their consumers. Also, with the increased decentralization and privacy, the Internet will become individualized and customized. Additionally, AR/ VR and blockchain will alter how people will interact with the online world.
3. Marketing strategies will need to be updated
The impact of Web 3.0 on digital marketing will require them to update their strategies to meet new challenges and opportunities. To effectively target audiences, marketers will need to leverage a variety of user data sources.
Conclusion,
Web 3.0 is the turning point. It encourages every platform and business to orient itself. Transparent use of data, more personalized and accurate insights, freedom for users, and decentralized and shared networks are the basics of this new web.