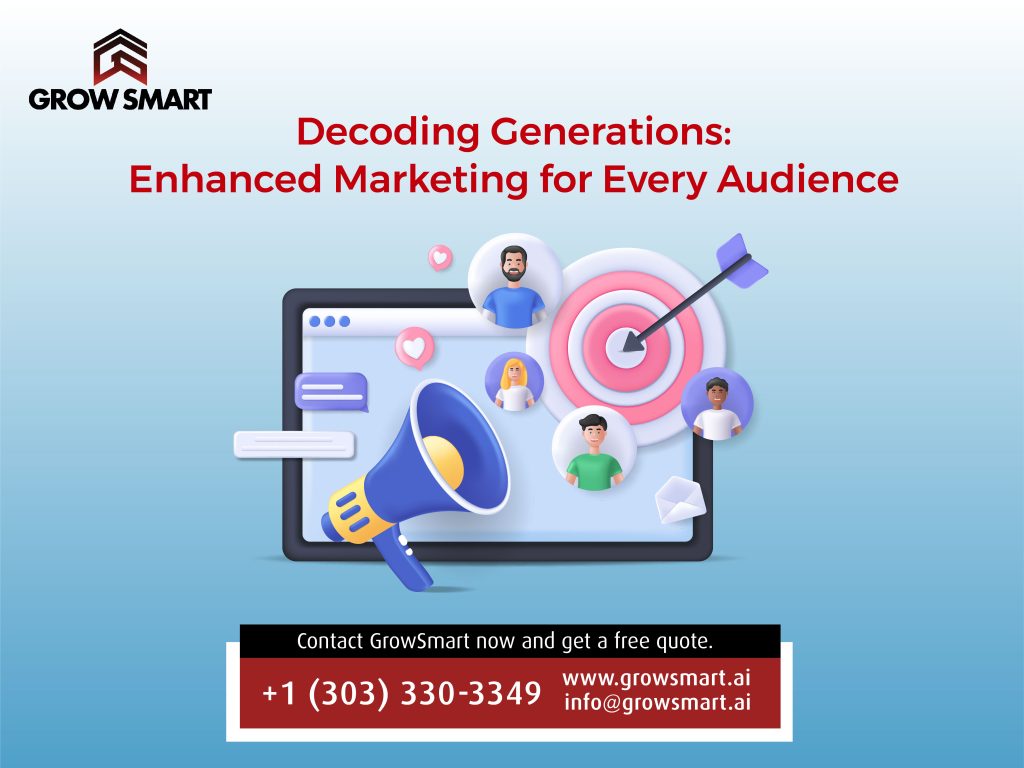 Understanding your target audience is key to creating successful campaigns in the fast-paced marketing world. One crucial aspect of audience segmentation is decoding the different generations and tailoring marketing strategies to reach each group effectively. In this article, we will explore the characteristics and preferences of various generations and how marketers can employ enhanced techniques to capture their attention and drive engagement.
Marketing has evolved significantly over the years, and understanding the unique characteristics of each generation is crucial for success. From the Silent Generation to Generation Alpha, each cohort has distinct traits, preferences, and communication styles that shape their consumer behavior. By decoding these generations, marketers can create targeted campaigns that resonate with their audience on a deeper level.
Baby Boomers
Baby Boomers, born between 1946 and 1964, are known for their strong work ethic, optimism, and wealth. They appreciate personalized experiences and are more likely to engage with brands that prioritize customer service. Marketers should leverage digital channels like email marketing and social media, ensuring content is tailored to their needs and preferences. Utilizing testimonials and highlighting the benefits of products or services can also resonate well with this generation.
Generation X
Generation X, born between 1965 and 1980, witnessed the rise of technology and the advent of the Internet. This generation is characterized by independence, adaptability, and a desire for work-life balance. To effectively market to Generation X, brands should focus on authenticity and personalized storytelling. Utilizing email newsletters, content marketing, and influencer partnerships can help capture their attention and build brand loyalty.
Millennials
Millennials, born between 1981 and 1996, are digital natives. They value experiences over material possessions and seek authenticity in their brand interactions. To connect with Millennials, marketers should prioritize digital marketing channels, including social media platforms like Instagram and TikTok. Engaging in influencer collaborations, user-generated content campaigns, and interactive experiences can effectively capture the attention of this tech-savvy generation.
Generation Z
Generation Z, born between 1997 and 2012, is the first generation to grow up entirely in the digital age. They are characterized by their diversity, social consciousness, and reliance on technology. Marketers targeting Generation Z should focus on mobile-first strategies, incorporating short-form content like videos and memes. Leveraging social media influencers, cause-driven marketing, and interactive experiences can help brands establish a genuine connection with this generation.
Generation Alpha
Generation Alpha, born in 2013 onwards, is the youngest generation currently making its mark on the world. Being born into a highly digitized and connected era, they are true digital natives. To effectively engage Generation Alpha, marketers should prioritize mobile-first and video-centric strategies. Platforms like YouTube, streaming services, and interactive mobile apps can capture their attention and foster meaningful brand interactions.
Strategies for Enhanced Marketing
Now that we have explored the characteristics and preferences of different generations, it's time to delve into strategies that can enhance marketing efforts across these cohorts. Here are some key approaches to consider:
1. Personalization and Customization
Tailoring marketing messages to the specific needs, preferences, and values of each generation is crucial. Implement personalized marketing strategies that address the unique pain points and aspirations of your target audience. Utilize data-driven insights to create highly relevant content, recommendations, and offers.
2. Authenticity and Transparency
Today's consumers, regardless of generation, value authenticity and transparency from brands. Build trust by showcasing your brand's values, mission, and commitment to social responsibility. Encourage user-generated content and engage in open and honest communication to establish a genuine connection with your audience.
3. Embrace Digital Platforms
Digital platforms play a significant role in the lives of all generations. Leverage social media, search engine optimization (SEO), content marketing, and influencer partnerships to increase brand visibility and engage with your target audience effectively. Stay up to date with emerging platforms and trends to adapt your marketing strategies accordingly.
4. Storytelling and Emotional Appeal
Humans are wired to connect through stories. Craft compelling narratives that resonate with the emotions and experiences of your target audience. Use storytelling techniques to create a meaningful bond between your brand and consumers, making them feel understood, inspired, and motivated to take action.
5. Omnichannel Marketing
Implement an omnichannel approach to ensure consistent messaging and seamless experiences across multiple touchpoints. Integrate online and offline channels to provide a cohesive brand experience. This can include a combination of social media, email marketing, website optimization, traditional advertising, and in-store activations.
Conclusion
In today's diverse and rapidly changing market, understanding and decoding the different generations is vital for effective marketing. By tailoring strategies to each generation's preferences, marketers can create engaging campaigns that resonate with their target audience. Personalization, authenticity, digital engagement, storytelling, and omnichannel marketing are key to enhancing marketing efforts across generations.