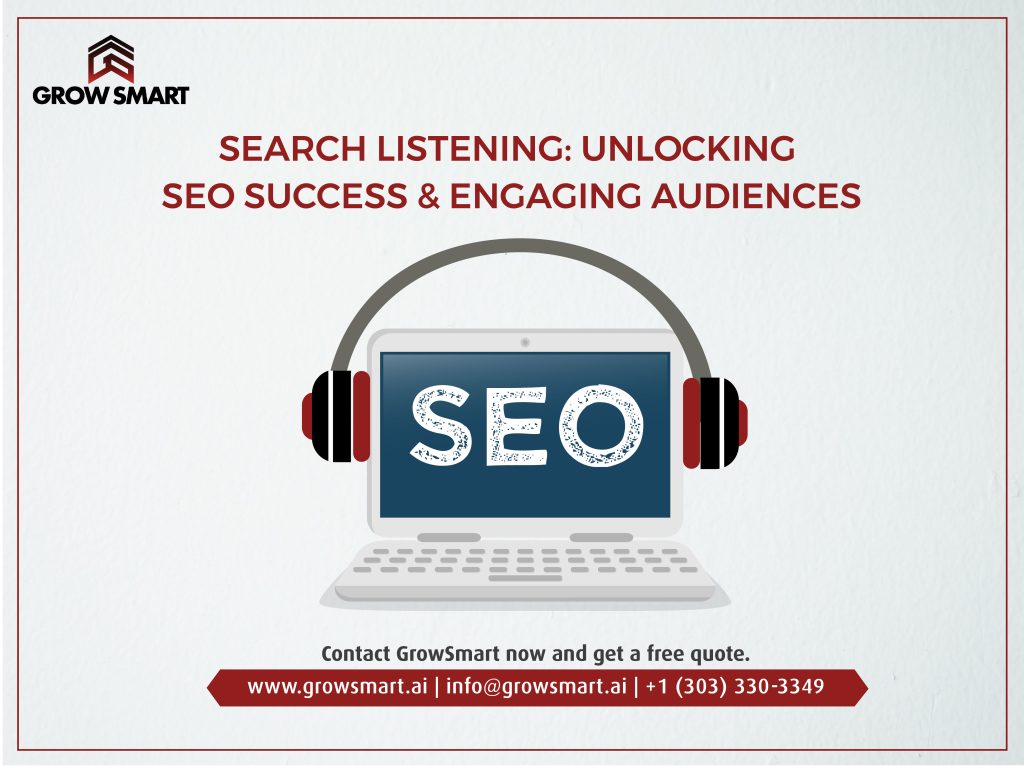 In today's digital landscape, search engine optimization (SEO) is vital in driving organic traffic to your website. To maximize your SEO efforts, it is crucial to understand and effectively utilize the power of search listening. This article will delve into search listening, its importance in SEO, and how it can help you engage your target audience effectively.
What is Search Listening?
Search Listening is actively monitoring and analyzing the online conversations, questions, and search queries that users generate. By gaining insights into what users are searching for and discussing, businesses can adapt their content strategy to meet the needs and preferences of their target audience.
The Importance of Search Listening in SEO
In the realm of SEO, It is a game-changer. It provides valuable data and insights that can significantly impact your SEO strategy, keyword research, and content creation. By leveraging it, you can uncover emerging trends, identify gaps in the market, and create content that directly addresses the questions and concerns of your audience. This approach improves your search engine rankings and enhances your brand's credibility and engagement with users.
Benefits of Search Listening in SEO
1. Identifying Relevant Keywords and Topics
By monitoring search queries and online discussions, you can discover the exact words and phrases people are using to search for information related to your industry. This insight allows you to optimize your website's content with relevant keywords and create compelling topics that align with user intent.
2. Tailoring Content to User Needs
Understanding your audience's wants enables you to create content that addresses their pain points, concerns, and interests. By tailoring your content to user needs, you can provide valuable information, establish authority in your niche, and foster a loyal community of engaged users.
3. Enhancing User Experience
It helps you better understand your target audience's preferences, search behaviors, and pain points. With this knowledge, you can optimize your website's user experience, making it more intuitive, user-friendly, and appealing to visitors.
4. Anticipating Trends and Staying Ahead
Monitoring online conversations and search trends lets you stay ahead of the curve. By spotting emerging trends early, you can create timely and relevant content that positions your brand as an industry thought leader and attracts a broader audience.
How to Leverage Search Listening for SEO Success
1. Monitor Social Media Channels
Keep a close eye on social media platforms, forums, and discussion boards where your target audience engages. Look for conversations related to your industry, product, or services. Analyze users' questions, comments, and pain points to gain insights into your content strategy.
2. Leverage Search Listening Tools
Utilize search listening tools to automate the process of gathering data and insights. These tools enable you to monitor search queries, track keyword performance, and identify emerging topics. Some popular tools include SEMrush, Ahrefs, and Google Trends.
3. Analyze User-generated Content
User-generated content, such as customer reviews, blog comments, and social media posts, can provide valuable insights into what your audience is talking about. Analyze these sources to identify recurring themes, questions, and concerns you can address in your content.
4. Conduct Surveys and Interviews
Directly engaging with your target audience through surveys and interviews can yield invaluable insights. Ask questions related to their search behaviors, preferences, and pain points. This firsthand information will help you tailor your content to meet their needs more effectively.
5. Develop a Content Strategy
Based on the insights gained from search listening, develop a comprehensive content strategy that aligns with your audience's interests and needs. Here are some tips to guide you:
Keyword Research: Use the keywords and phrases you discovered through search listening to inform your keyword research. Identify high-volume and relevant keywords to optimize your content for search engines.
Topic Generation: Create a list of topics based on your identified questions, concerns, and trending discussions. These topics should address the pain points and interests of your target audience.
Content Types: Determine the most suitable content types for your audience, such as blog posts, videos, infographics, or podcasts. Different formats can help you cater to different preferences and engage a broader audience.
Content Calendar: Develop a content calendar that outlines your content's topics, keywords, and publishing schedule. This ensures consistency and helps you stay organized in your content creation efforts.
Optimize Existing Content: Review your existing content and identify opportunities to optimize it based on the insights gained from search listening. Update your content with relevant keywords, address new questions, and enhance quality.
Search listening differ from traditional keyword research
While traditional keyword research focuses on identifying keywords based on search volume and competition, search listening goes beyond that by analyzing real-time conversations and user-generated content. It provides a deeper understanding of user intent, emerging trends, and preferences.
Search listening improves user experience on the website
You can optimize your website's navigation, content structure, and overall user experience by understanding your audience's preferences, pain points, and search behaviors. This leads to higher engagement, longer session durations, and increased chances of conversions.
Search listening help identify content gaps in your industry
By monitoring online discussions, you can identify topics or questions not adequately covered by existing content. This allows you to create valuable and informative content that fills those gaps, positioning yourself as an authoritative source in your industry.
How long does it take to see the impact of search listening on SEO performance?
The impact of search listening on SEO performance varies depending on factors such as the competitiveness of your industry, the quality of your content, and your website's authority. It may take some time to see significant results, but consistently applying search listening insights will improve your chances of success.
Conclusion
In conclusion, search listening is a powerful tool that can unlock SEO success and help you engage your target audience effectively. By actively monitoring and analyzing online conversations, questions, and search queries, you can gain valuable insights that inform your SEO strategy, keyword research, and content creation efforts. Let us help you unlock the full potential of search listening and watch your website soar in the search rankings.
Remember, search listening is an ongoing process that requires continuous monitoring and adaptation. Stay attuned to your audience's needs, preferences, and emerging trends.