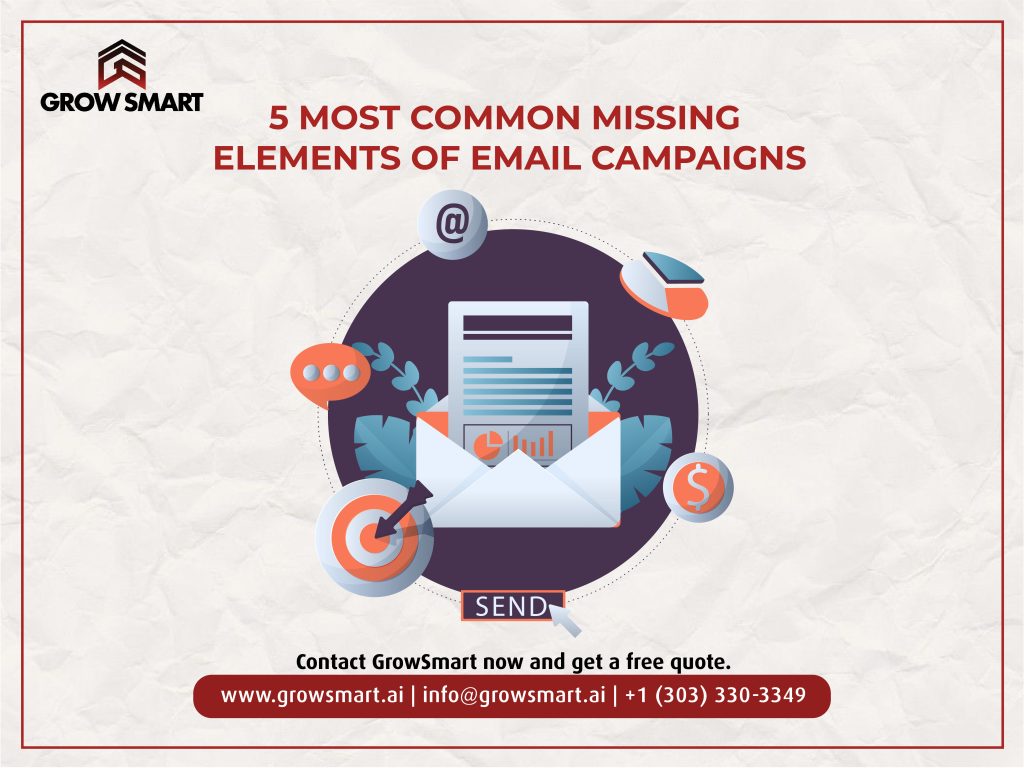 Email marketing is one of the most effective ways to reach your audience and achieve your marketing goals. But not all email campaigns are created equal. You may be missing some key elements if you're not seeing the engagement and results you want from your email campaigns. Here are the five most common missing elements of email campaigns and how to fix them:
Personalization
One of the biggest mistakes you can make in email marketing is treating all your subscribers equally. Consumers expect personalization, whether addressing them by name or sending targeted content based on their interests and behaviors. Personalization helps to build trust and makes your subscribers feel like you understand their needs.
Fortunately, personalizing your email campaigns is easier than ever. Most email service providers offer robust segmentation and personalization options that allow you to create highly targeted campaigns. You can segment your subscribers by demographic information, past behavior, and more. Use this information to create tailored content that resonates with each group of subscribers.
For example, if you're a clothing retailer, you might segment your subscribers by gender and send targeted emails promoting men's and women's clothing separately. Or, send a follow-up email to customers who recently purchased a specific item, offering complementary products or accessories.
A Clear Call to Action
Every email should have a clear and compelling call to action (CTA). A CTA is a prompt that encourages subscribers to take a specific action, such as purchasing, downloading a free resource, or scheduling a consultation. A strong CTA can increase conversions and drive revenue.
When creating your CTAs, make sure they're specific, clear, and compelling. Use action-oriented language that encourages your subscribers to take action. For example, instead of "Learn More," use "Get Your Free Guide Now" or "Claim Your Discount Today." Ensure your CTAs stand out visually and are easy to find in your email.
Mobile Optimization
More than half of all emails are opened on mobile devices, so your emails must be optimized for mobile. If your emails are mobile-friendly, you can avoid losing subscribers and missing out on potential revenue.
To ensure your emails are mobile-optimized, use a responsive design that adjusts to different screen sizes. Use a font size that's easy to read on a small screen, and make sure your images are optimized for mobile devices. Avoid using long paragraphs of text, and use shorter sentences and bullet points to make your content more scannable.
A/B Testing
It's only possible to know what works best with testing. A/B testing allows you to compare different elements of your email campaigns to see what resonates best with your audience. This can help you make data-driven decisions and improve your email performance over time.
When conducting A/B tests, focus on one element at a time, such as subject lines, CTAs, or email design. Create two versions of your email, with one element changed in each version. Send both versions to a subset of your subscribers and measure the results. Use the winning version as the basis for your next campaign and continue testing to refine your approach.
Consistency
Finally, consistency is key to building trust and engagement with your audience. Develop a schedule and stick to it, whether weekly, bi-weekly, or monthly. This helps your subscribers know what to expect from you and when to expect it. It also ensures that you stay top-of-mind with your audience and can help increase engagement over time.
When developing your email schedule, consider the type of content you'll be sending and the frequency of your sales and promotions. It would help if you also considered the preferences and behavior of your audience. For example, if you have a B2B audience, you might send emails on weekdays during business hours. If you have a B2C audience, you might send emails on weekends or in the evening when people are more likely to check their emails.
Consistency also applies to your email content. Use a consistent tone, design, and branding in all your emails. This helps to establish your brand and makes your emails instantly recognizable to your subscribers. It also helps to build trust and credibility with your audience.
Conclusion,
Email marketing is an effective way to reach and engage your audience, but getting the fundamentals right is important. You can improve your email performance and achieve your marketing goals by including personalization, a clear call to action, mobile optimization, A/B testing, and consistency in your email campaigns. Start implementing these elements today and see the difference they can make for your email campaigns.